Prepare Now for the Future of Student Transportation and Competitions among Bus Manufacturer
You've heard it before:
Choose diesel – With new advancements in clean-diesel school bus engines, diesel fuel is the best long-term fuel solution for most fleets.
Choose electric – As technology advances at a rapid pace, electric school buses will be the future of pupil transportation.
So which is it? What type of school bus is right for your fleet? Well, both. As the leading school bus manufacturer, Such as Thomas Built Buses, IC Bus is setting the groundwork now so fleets can have the best of both worlds: the best fuel solution for today and for tomorrow.
Today: reliable and durable clean diesel school buses bring ease of maintenance and lower costs
Through innovations like the new Detroit® DD5™ and DD8™ engines, clean-diesel school buses truly are the best solution for most school districts today. These new Detroit engines are easier than ever to maintain, with some of the longest service intervals in their class. Aftertreatment issues are now a thing of the past. Plus, based on EPA-regulated emissions, they are just as clean as, if not cleaner than, alternatively fueled and gasoline engines, and their fuel efficiency is the best in the industry, saving you money on fuel and lowering your total cost of ownership.
School buses equipped with the new Detroit DD5 engine have been running throughout the country for more than a year. And the results of these engines are proving that the future of clean diesel is a bright one. So far, around 80% of these buses routinely experience 0–1 manual regens, compared to old diesel engines which would require multiple regens a week. Plus, many drivers with the new DD5 engines are getting more than an average of nine miles per gallon on the road.
With all of its benefits, it's easy to see why districts don't have to switch to an alternative fuel or gasoline to reap the benefits of new/clean school bus technology. Without the extra costs of additional training and fueling infrastructure, clean-diesel is the best fuel type for most districts today and will continue to be well into the future, until a fleet is ready for the next level: electric.
Tomorrow: pollution-free power and performance with electric school buses
Many Buses manufacturing  has partnered with Daimler, Daimler Trucks North America and Proterra® to create the best electric school bus in the industry. Based on the industry's most popular school bus, the Saf-T-Liner® C2,  new electric school bus (dubbed Jouley®) delivers the power and performance you would expect from any school bus, along with zero emissions from the tailpipe and no noise pollution.
For example Thomas Built Buses' all-electric Saf-T-Liner C2 Jouley electric school bus is equipped with the same vehicle quality, durability, performance, safety and comfort as the popular Saf-T-Liner C2. Jouley is powered by Proterra electric vehicle technology and is configured with 226 kWh of total energy capacity, a two-speed transmission and an estimated operating range of up to 138 miles. Through DC fast-charging architecture as standard equipment, Jouley can charge in about three hours and can supply power back to the power grid using vehicle to grid (V2G) technology.
School districts and utility providers alike are testing out these new buses in their fleets to begin to reap the benefits of cleaner emissions, lower operating costs and energy storage capabilities. The benefits of electric school buses look promising today and are expected to become even better in the future.
Competition in the booming electric school bus market has increased yet again with the announcement from Build Your Dreams (BYD), a Chinese automotive giant, that it is building a battery-electric Type D school bus.
Last week, BYD, which has U.S. headquarters in Los Angeles and a 450,000-square-foot manufacturing facility in nearby Lancaster, California, stated in a press release that it aims to revolutionize electric school buses.
BYD referenced its electric bus will have smart technology that creates a new environment for bi-directional charging, allowing for the battery energy to be put back into the electric power grid. The company explained that school buses can be charged overnight when energy demand is low, and then clean-emission-free energy can be fed back into the classroom during school hours when the bus is parked. This will help keep classrooms well-lit as well as students and teachers plugged in, the press release stated.
"We are raising the bar for design, innovation, range and quality, giving parents peace of mind knowing their children are benefitting from the safest school bus anywhere," stated Stella Li, president of BYD North America. "At the same time, our buses will give operators the performance and cost savings that will make migrating to zero-emission technology affordable and practical."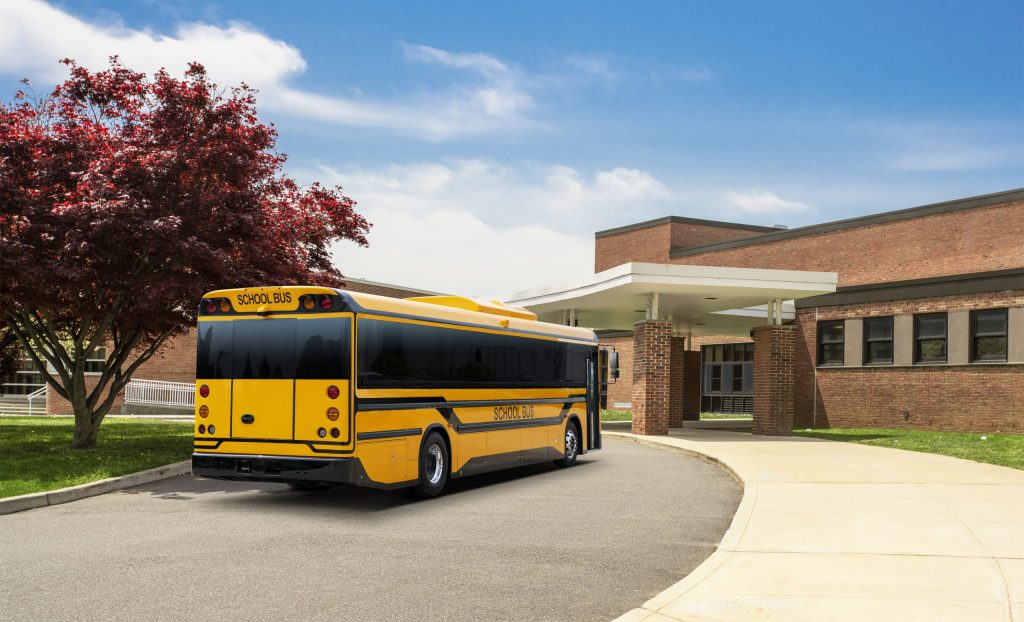 The lithium iron phosphate battery being used in the BYD Type D bus is reportedly the safest and most reliable battery in the electric vehicle industry. The batteries can cut fuel and maintenance costs by as much as 60 percent, compared to diesel vehicles, the press release stated. The battery allows for 155 miles of travel on each charge.
BYD also said it prioritizes top safety features in its design, including electronic stability control, collision avoidance system and a 360-degree monitoring system to detect pedestrians and cyclists. The bus also adds an additional layer of protection with its predictive stop arm.
The press release added that the buses can be equipped with IMMI's SafeGuard lap/shoulder seatbelts, integrated child seats and portable restraints. The bus can also be equipped with an ADA liftgate.
"From the beginning, our team has always been focused on many key features," stated Samuel Kang, BYD's head of total technology solutions. "We believed the Type D electric bus needed to be appealing to kids while at the same time offer the upmost safety features and driver ergonomics, be equipped with a safe, high-performance battery, and have plenty of storage capacity for road trips. The BYD Type D school bus achieves all those goals."
The driver's area also features comfortable seats, an 18-inch power steering wheel and a telescopic steering column. Other features include a high level of visibility and easy-to-reach controls, in which the driver can control the air conditioning in the cockpit as well as for passengers.
The school bus is available in lengths of 35, 38 and 40-feet, and can seat up to 84 passengers. No information was provided on how much the bus will cost or when it will reach production.
Types of Buses
When it comes to school buses rather than the yellow paint job they share, we have undoubtedly noticed that they don't always look alike. Some are short, some have flat fronts, and others look marginally like a taxi cab.
No matter what the difference all school vehicles have to be manufactured to federal motor vehicle safety standards for school buses.
The use of school bus yellow is not allowed on any other vehicle on the road. Other than the exclusive paint colour, school fleets are required to be integrated with warning lights and safety devices.
A school bus is used for the transportation of students from home to school and vice versa, despite the differences they are categorized into 8 types such as
TYPE A
Cutaway front section vehicle forms the foundational structure of a type A school bus body, with the driver's door being placed on the left. The type A school bus is capable of carrying 30 passengers. The TYPE A school buses are furthermore classified into two TYPE A-1 and TYPE A-2.
The TYPE A-1 has a GVWR (Gross Vehicle Weight Rating) of 14,500 pounds or less, whereas Type A-2 has a GVWR of 14,500 pounds and less than or equal to 21,500 pounds. The driver requirement to drive a TYPE A vehicle is a CDL with a school bus and "P" (passenger) endorsement.
TYPE B
Constructed using a stripped chassis the TYPE B school bus is designed to carry 16 passengers or less including the operator. Part of the engine is behind the windshield and beside the driver seat and the entrance door. There are two types of TYPE B school buses TYPE B1 and TYPE B2.
TYPE B1 has a GVWR of 10,000 pounds or less; whereas Type B2, have a GVWR greater than 10,000 pounds. Seen much rarer these days the TYPE B school bus meet all Federal Motor Vehicle Safety Standards for school buses. A driver's license with a TYPE B School Bus endorsement is required to drive a TYPE B school bus.
TYPE C
TYPE C often called as "Conventional" is the traditional school bus with a chassis which is built upon a front –fender assembly with a hood. TYPE C school buses also consist of the cutaway truck chassis with or without a left-side door.
Designed for carrying more than 70 passengers, the entire bus engine is placed in front of the windscreen and the entrance door behind the front wheels. Having a GVWR greater than 21,500 pounds, TYPE C bus is the most commonly used school bus of the modern times.
TYPE D
Manufactured using a stripped chassis the TYPE D more commonly known as the "Transit Style" school bus is designed to carry more than 80 passengers. Having a GVWR generally betwixt 25000 to 36000 lb, the engine is mounted on the front/ mid-ship or the rear of the vehicle.
The entrance door is ahead of the front wheels and the engine is often placed at the back of the windshield, alongside the driver's seat, this type of positioning is known as FE (forward engine) there is another case where the engine is placed on rear of the bus, behind the rear wheels this type is known as RE (rear engine).
Multifunctional School Activity Bus
An MFSAB is somewhat different from other school buses. Under the federal motor vehicle safety standards for school buses, any vehicle which is intended for school transportation services should be painted yellow. But an MFSAB cannot be used by schools to transport students to or from home.
MFSAB's are used to transport students on trips. Since they are not intended to be used for picking up or dropping students on public roadways Multi-Function School Activity Buses are given an exception on the requirements and devices of a school bus like stop arm, flashing lights and school bus yellow paint.
Still, they are required to comply with all school bus crash worthiness standards and vehicles meeting these specifications will be stamped with a sticker by the manufacturer which precisely identifies the vehicle type as an MFSAB.
An MFSAB can carry 10 passengers including the operator.
School Van
School vans are conventional cans which are converted to attain school bus requirements. Major modifications are done to the vehicle and the important one is cutting the roof off to increase the height and welding in a full roll cage.
Once the alterations are made the vehicle is nothing but a regular van which meets all Federal Motor Vehicle Safety Standards for school buses. SCHOOL VANS are manufactured to contain 10 passengers including the operator.
Non-Conforming Vans
NON-CONFORMING VANS are cargo vehicles which are converted to passenger transportation, having a seating capacity of 15 passengers the vehicle does not satisfy any rules set by Federal Motor Vehicle Safety Standards for school buses. These vehicles even lack safety features of traditional passenger vehicles and are normally laid off these days.
Alternate Vehicles
ALTERNATE VEHICLES are most common for use in Head Start transportation. They meet all federal school bus crashworthiness standards but does not meet regulations or traffic control standards like flashing lights or school bus yellow paint. ALTERNATE VEHICLES have a seating capacity of 10 passengers and above.
Apart from all these differences, all school buses follow federal motor vehicle safety standards.
Let's Have a Look into Different Types of School Buses:
1) A Type
These buses have a seating capacity of more than 15 passengers including the operator.
2) B Type
This type of buses have a seating capacity of more than 10 passengers but not exceeding 16 passengers, including the operator.
3) C Type 
This conventional type of bus can carry more than 10 passengers including the operator.
4) Type D
Type D or the 'transit' style buses are designed to carry more than 10 passengers.
Ready to get started? Contact SpotBus, Inc team to see if electric school buses are feasible for your fleet.
Related posts